For the last post in this series, but most definitely not least, we turn to Friday brunch, by all accounts a "must do" tradition when visiting Abu Dhabi or Dubai. Imagining a tasty plate and maybe a cheeky Mimosa, I was like, "sure, I love brunch, let's do it!" when Cait suggested it. Turns out I really had no idea what I was getting myself into…
Friday brunch serves as the epitome of indulgence and extravagance in Abu Dhabi. Quick side note: weekends in the UAE are on Friday and Saturday, so the fact that it takes place on a Friday is not strange. Everything else about it, however, blows your mind. Friday brunch is a weekly event running from around 12pm until 4pm, and is offered in the restaurants of many hotels throughout Abu Dhabi. As there are probably variations between the offerings of different hotels, I will describe the brunch we attended, which was at the Fairmont Bab Al Bahr. You pay a set amount for the day, which varies according to the alcohol options you choose. With a discount from The Entertainer discount book widely used throughout Abu Dhabi, we ended up paying about €45 each for unlimited food and drinks. And I really mean unlimited.
The food options are vast. The main room is entered via a corridor which includes tables and cooking stations laden with enticing options such as pizza, pasta, sushi, beef and spuds, as well as the all-important mojito bar. Upon entering the main room you are greeted by such an even wider variety and volume of food that your eyes pop out of your head. Cheeses and breads galore… a breakfast section with eggs benedict, sausages, french toast, waffles… an Indian section with samosas, spring rolls, bhajis… a meat station with Marco Pierre White standard steaks (he owns the hotel steakhouse)… stews, casseroles, fish, veggies, pastries, puddings… basically any food you could possibly think of you can find in this decadent room. Well, except pork. We're still in a Muslim country and so pork is simply not available, but I must say the chicken sausage was pretty delish!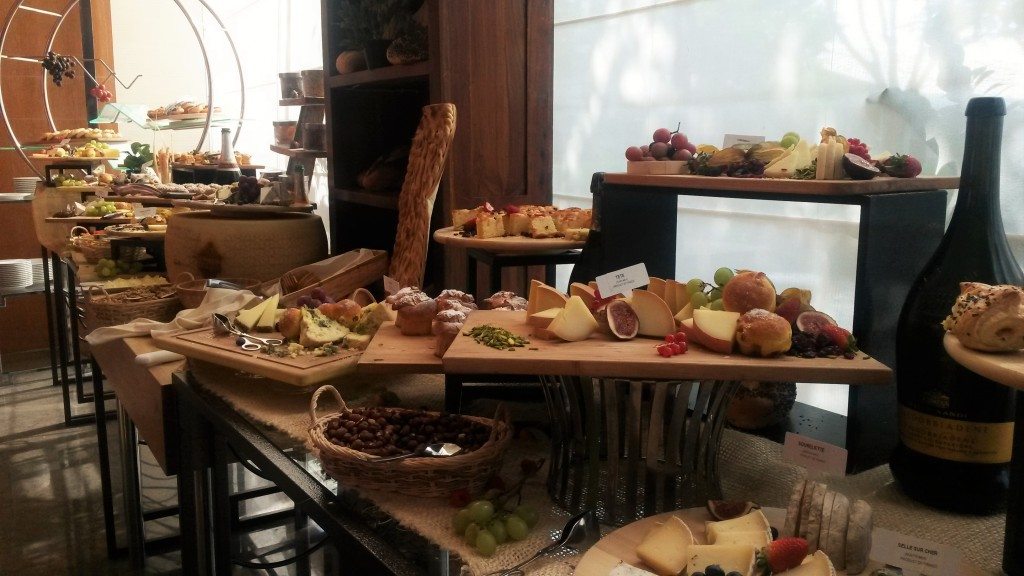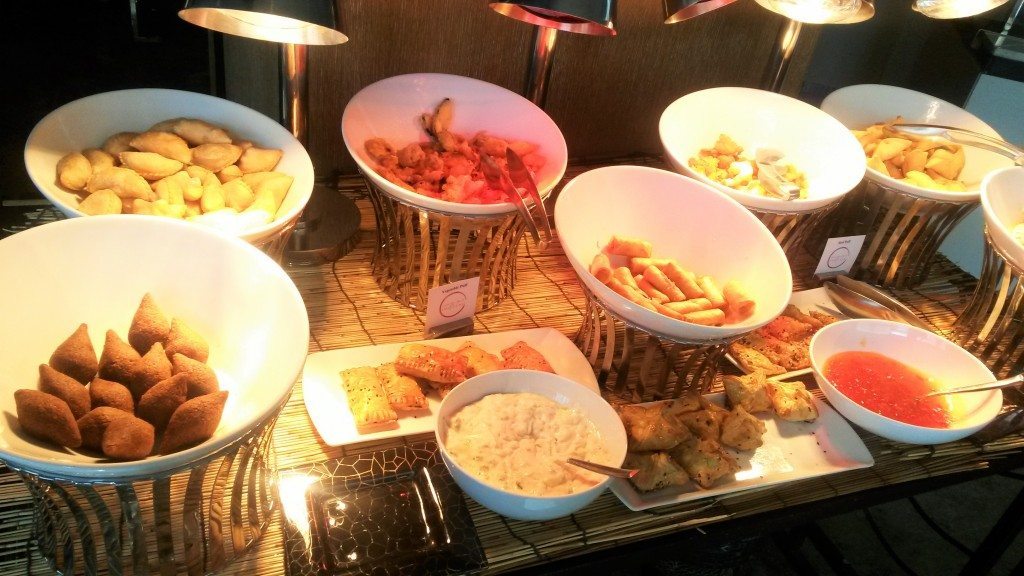 And the dessert room! Heaven for a child, or anyone with a sweet tooth. Shelves upon shelves of delicate little cakes and pastries, a crêpe counter, candy floss, a massive chocolate fountain with a scrumptious selection of bites to dip. Altogether just… divine.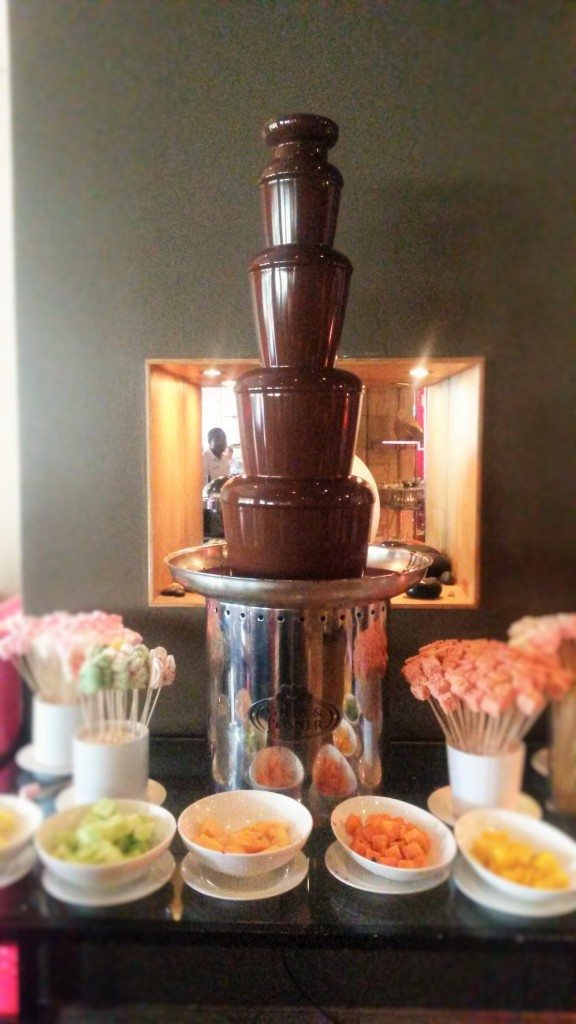 Brunchers are free to pick and choose whatever fare takes their fancy all through the afternoon, while their glasses are kept topped up by diligent and friendly waiters, ensuring you never go thirsty in the midst of your gluttony. I must point out that brunch is not something that locals would indulge in on a weekly basis, it is more of an occasional treat. But gluttony is still the best word to describe what goes on here. Not even necessarily borne of simple greed, it is just that there are sooooo many options, each looking more delectable than the last, that you cannot help but stuff yourself stupid just to get to try out as many of the dishes that you can. I love my food, but I hate being uncomfortably full, and so I tried my best to pace myself… Fail. It was always going to be a fail at this feast.
The food was delicious, the never-ending flow of drinks even more so, and the day also offered the perfect opportunity to meet and catch up with some other old buddies who live in Abu Dhabi. Shout out to Alana and Brittany, hollaaaa! Not to mention meeting the lovely Sarah and Val for the first time. Along with my amazing hostess-with-the-mostess Cait, we had the perfect gaggle of girlies for a delightful day out. Which, let's face it, was always bound to roll into the evening and beyond. The night that followed was much as you'd expect – fun and frolicks galore in a local disco bar.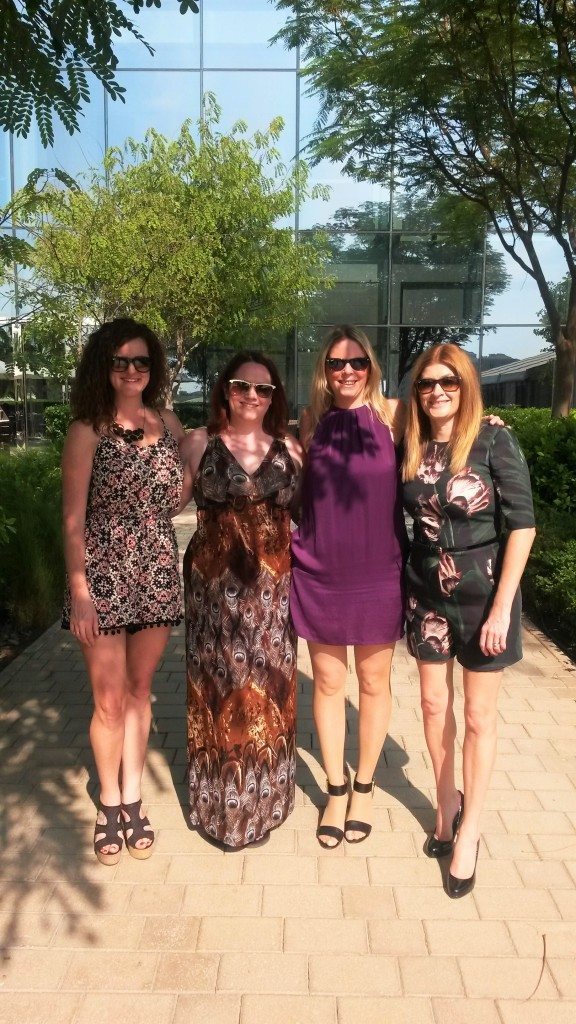 All in all, while somewhat exceptional and extravagant, a day like this still represents my impression of what Abu Dhabi is all about. Money is no object. I can have what I want, when I want. All the best of things should be at my fingertips. In a city where you don't walk (you drive or take a taxi anywhere you go), and where you can order delivery of even just a chocolate bar from your local grocery shop, luxury services and surroundings are the order of the day. I've said before that this kind of lifestyle is a bit removed from the realities of the daily grind, and I think it could suck you in and leave you with unrealistic expectations of how life should even be. Each to their own though, and that kinda thing might sound right up your alley! But anywhere can be truly luxurious with the right attitude, and so I still prefer to brave the mosquitoes and sticky heat to take a stroll up my own dusty alley in my little piece of paradise on Ko Lanta.
I hope you've enjoyed these Abu Dhabi anecdotes, I certainly enjoyed the trip and reflecting on my time there. But I'm excited now to share what life is like on a tropical island, so please do stick around, plenty more to come!