After an introduction to the luxury and opulence of Abu Dhabi, it was time to experience another aspect of life in the desert – adventure and adrenaline on a desert safari! I was particularly excited about this excursion, particularly to get out and take in the view of an endless sea of sand in the open desert for the first time. The experience certainly did not disappoint!
We booked the trip through Emirates Tours and Safari, going for the half day desert safari option. Our driver, Fazza, collected us from a central hotel along with a young Swedish family, who were lovely company for the day. After a 40 minute drive out of the city, we arrived at our first stop, a camel farm. This was just a photo stop really, short but oh so sweet, especially seeing the baby camels! They were a bit shy but the cutest little critters ever! Some of the adults were a bit friendlier, coming over for pets and cuddles from the obviously familiar guides, and helpfully posing for some great photos.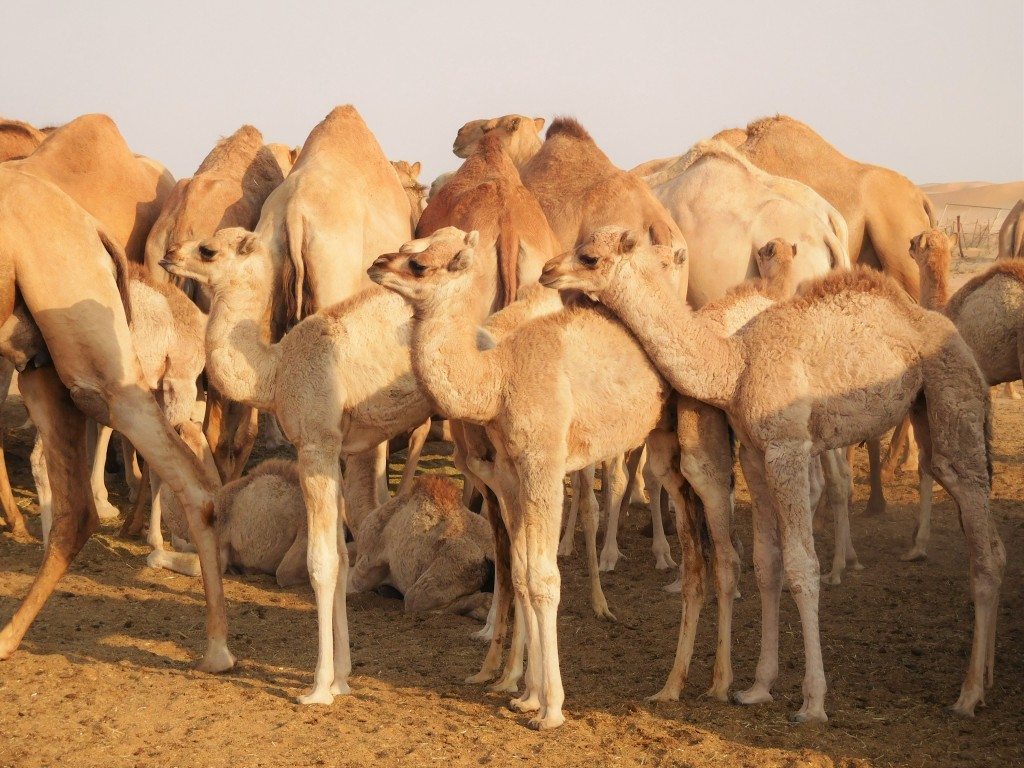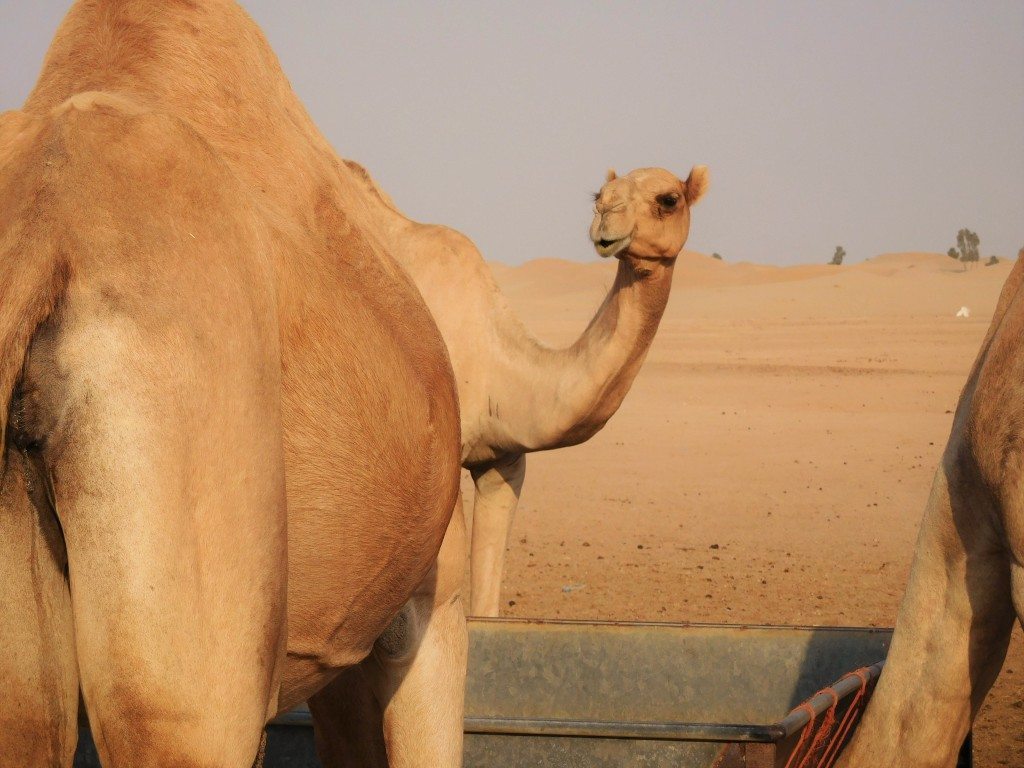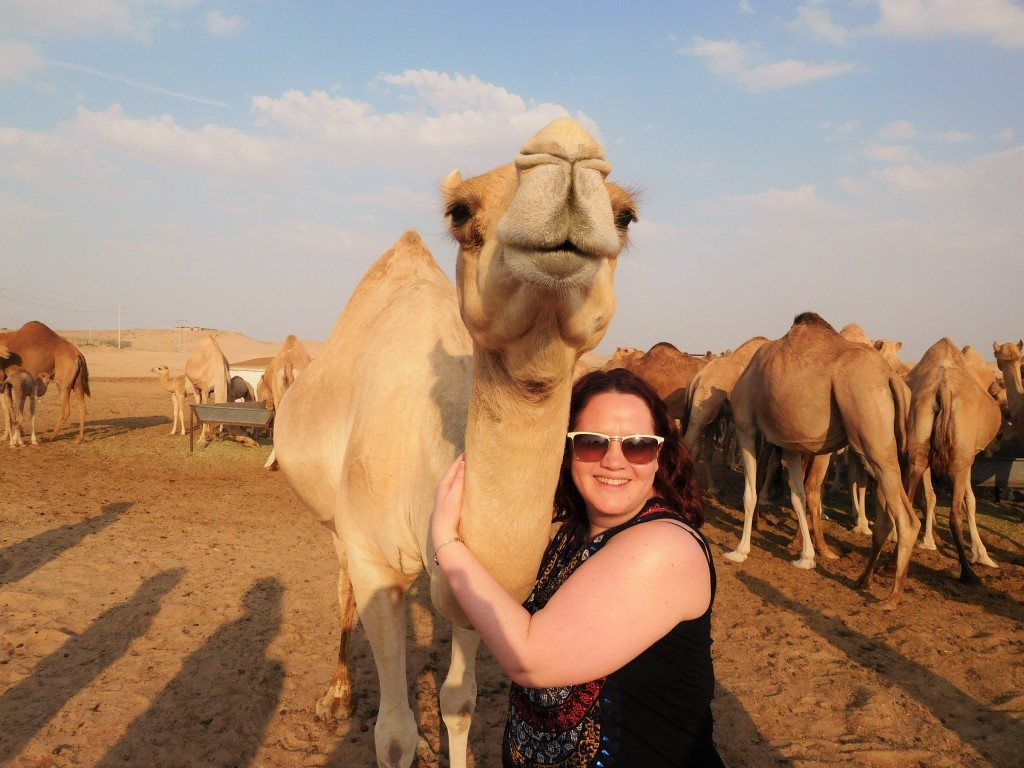 After getting our camel fix, we proceeded to the adventure aspect of the day – dune bashing! The 15 or so Land Cruisers that made up the full tour group set out into the Al Kathim desert, seat belts on, and the experienced guides proceeded to drive like absolute maniacs on the dunes, up, down, sideways, anyways! We were (un?)lucky with Fazza who seemed determined to go just a little higher and faster than every car before on every dune – amazingly sometimes driving with one hand, sipping his drink out of the other as casually as if he was cruising down a motorway. It was as thrilling, exciting and scream-inducing as any rollercoaster, with Fazza getting great laughs out of our gasps and shrieks. It's certainly not an experience for the faint-hearted, or the full-tummied, as we saw in the example of some poor woman from another car who we passed in the process of losing her lunch to the sand. Eat light if you're doing this, peeps.
We stopped for a water break and more photos in the middle of the open desert, which was just as breathtaking as I had imagined. Standing on the crest of a dune, looking out on to an ocean of rolling dunes, pristine, smooth, so very still. The view was simply magnificent.
We then proceeded to the camp, an oasis nestled amongst the dunes, with low tables and cushions on the ground surrounding a large platform for the entertainment later in the evening. Here we had some time to relax after the exciting afternoon, to sit down with a cool drink, watch the sunset, ride a camel, try out some sand boarding or quad biking, get a henna tattoo, or get photos wearing the traditional Arabian clothing of the abaya (for women) and the kandura (for men). The space was comfortable and service was provided with warm and open smiles from all the staff.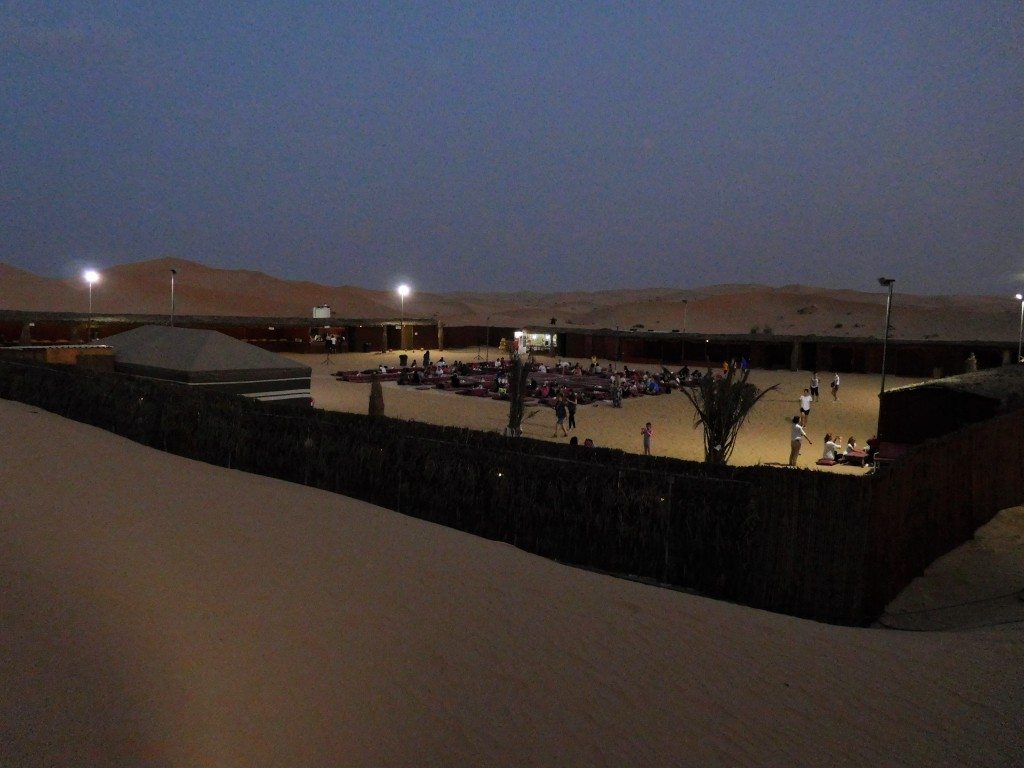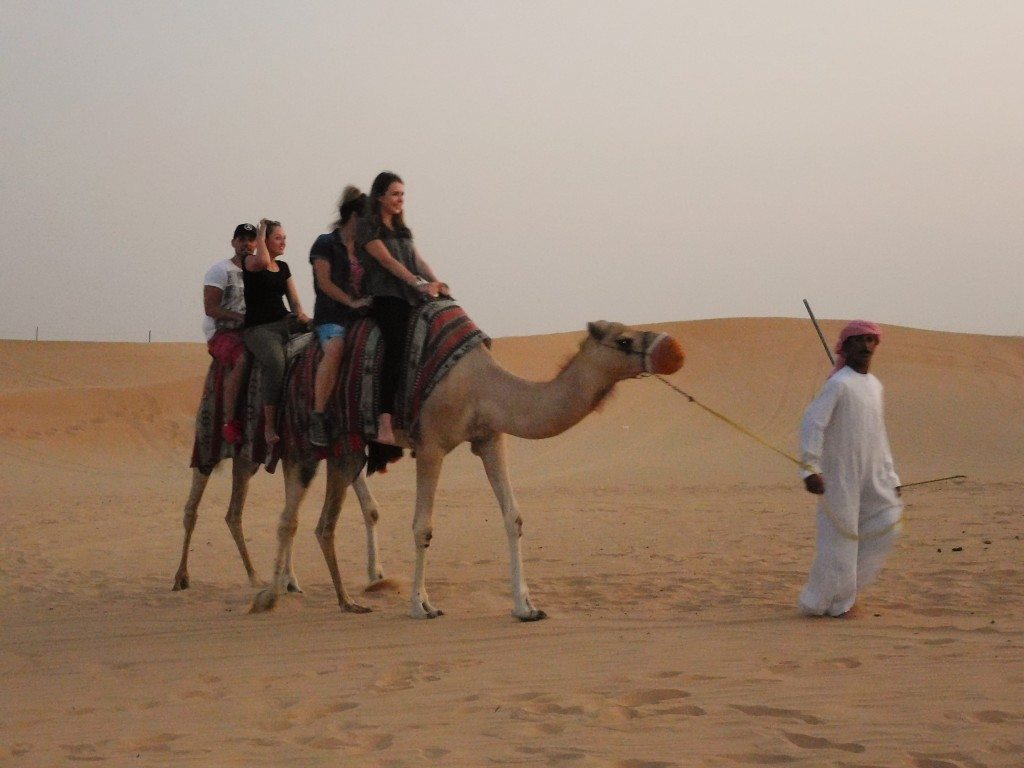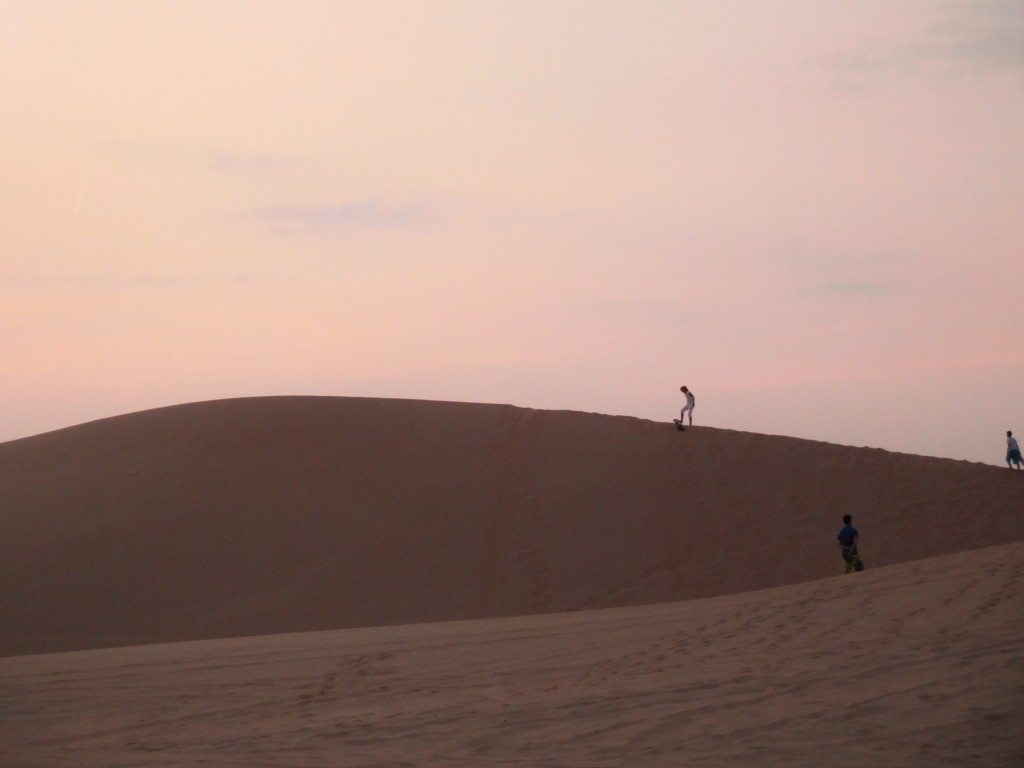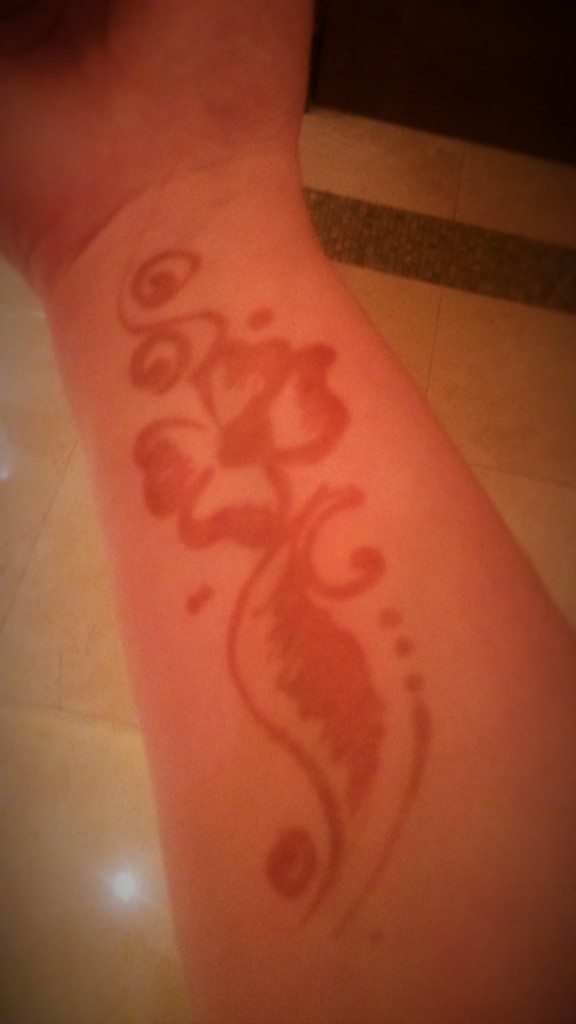 After some free time, dinner was then served as a massive buffet, with mouthwatering options such as hummus, muttabel and tabouleh with yummy arabic bread, fattoush and coleslaw, lentil stew, chicken and beef kebabs… I piled my plate high with pretty much every delicious option going!
When everyone was full and relaxed after dinner, it was time for the entertainment. A beautiful dancer performed a series of traditional Arabian belly dances for the group. To be honest, this was probably the most disappointing aspect of the day – or rather more anticlimactic than disappointing (although that's not to say that it in any way spoiled the overall experience!) The dance platform was so big that I mistakenly assumed that there would be a group of dancers, but there was only one. It simply felt slightly awkward to be staring at this gorgeous girl, the lone focal point on the platform, scantily clad in a skirt and jewelled bra, seductively shaking her hips or her boobs in every direction. Maybe that's just my conservative Irishness coming through, where, historically, any hint of sex and seduction is frowned upon as sinful behaviour – it can be hard to shake off your own cultural roots! The dancer herself was very talented and professional, and it says much more about me than the performance that I couldn't hold back a couple of schoolgirl giggles whenever she got too close to my side of the platform.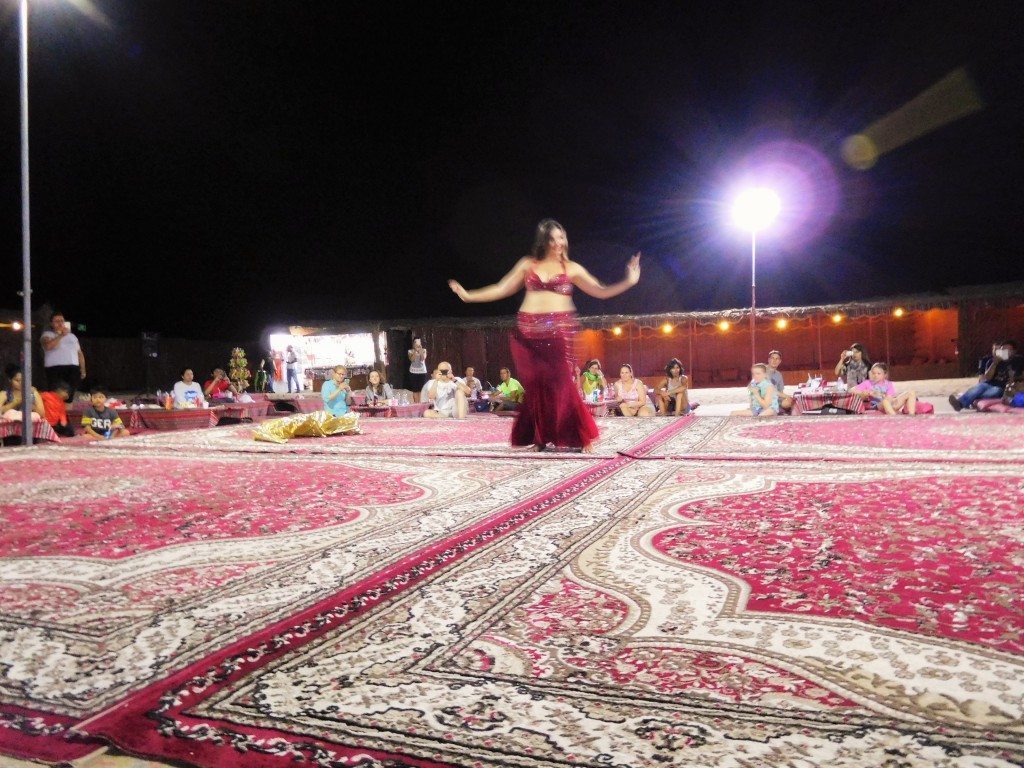 Overall it was a magical and exciting day in the desert. Massive props to the Emirates Tours and Safari team who had each element of the day timed down to the minute, and executed every step smoothly and flawlessly. We were hugely impressed and entertained by our driver Fazza throughout the day, and watching the laughs and smiles of tourists from the other cars, it seems that every other driver was as well received. I would recommend this safari to anyone and everyone and would do it again myself in a heartbeat. Undoubtedly the highlight of the whole trip! Even with stiff competition from the brunch experience the next day…