About four months ago, my Mum noticed that my Dad had been a bit absent-minded – more than usual, anyway. Asking what day it was, ignoring a leaky kitchen ceiling for a few days, forgetting to play golf one day. That was the real warning sign right there – my Dad's life pretty much revolved around golf, so for him to forget to play was simply unthinkable.
After several days of trying to convince him to go to a doctor (he was a stubborn man), he finally relented and allowed my Mum and my brother to bring him to the hospital. He was admitted immediately and was eventually diagnosed with a brain tumour. They thought it would be treatable, and Dad, our "Indestructible Man", had bounced back from a number of health issues before, so, while concerned, we remained positive and didn't necessarily fear the worst. Delays in getting the biopsy completed meant that it was another few weeks before we finally got the news every family dreads – the tumour was in fact an aggressive and terminal form of brain cancer. We were told he had months left. As it turned out, he only lasted another two weeks.
I had moved from Thailand to Bali while all this was going on. Before we knew that this was to be his last fight, my Mum and brothers assured me that there was no need to rush home, they were all doing okay and supporting each other, and would keep me posted on what was going on. When the news came in, late on a Friday night in early June, that this tumour was incurable, I immediately booked flights to come home to Ireland to spend time with him and the rest of my family.
I arrived on a Thursday morning to shared hugs and tears with Mum, as she broke the news that there had been a further setback. As if terminal brain cancer wasn't bad enough, it was a fresh blow to hear that while I was travelling the tumour had caused a bleed in his brain, which knocked him into a deep sleep he ultimately never awoke from. We went straight from the airport to the hospital. Seeing him lying there, pale and unconscious, was a jolt. I had had some idea of what to expect, but seeing him in front of me was something else. It is such a helpless feeling to sit by the side of someone you love, holding their hand and hoping they are aware on some level that you're there – but completely unable to halt or divert the course that they're on.
He was moved to hospice on Monday morning. The very fact of that was jarring in itself – hospice is for dying people, so yep, that means he's officially dying. Even though we knew this, every concrete reminder came as a shock all over again. The fact that he wasn't receiving his usual medication for his pre-existing diabetes and heart condition. There was no point. The removal of his feeding tube was particularly difficult, and had to be explained several times before the truth sunk in that his body simply didn't need and couldn't process sustenance any more.
He died on Friday. He spent that last day completely surrounded by and enveloped in the love of his family. His own brothers and sisters, my Mum's siblings who loved him as a blood brother, and of course Mum, my brothers, and me. We all knew that the end was near and wanted to spend as much time as we could by his side. In the afternoon, my Mum asked for some quiet time with him, so everyone said their goodbyes and headed away with the promise to come back and sit with him in the evening. My brothers also had some errands to run, so eventually, it was just me, Mum and Dad. As Mum said later, he must have waited for when it was just him and his two girls. At around 4pm, only about half an hour after everyone else had left, we noticed that his breathing was changing, becoming slower and deeper. We called a nurse who confirmed that this was it, he was taking his last breaths. We held his hand together, telling him we loved him and that everything was okay, even through our own panic and tears, as his breathing got slower and slower, and eventually stopped.
And just like that, he was gone. It's amazing how, even when you know what's coming, the finality of death comes as a deep, earth-shattering shock.
Seven weeks after going into hospital, we brought Dad home for his wake. In a particularly heartbreaking twist of fate, it also happened to be Father's Day, a fact I steadfastly shoved to the back of my mind throughout the day. It was too painful to acknowledge that we should have been celebrating him as our larger-than-life Dad, standing in front of the fireplace with a G&T in his hand, regaling us all with his latest riveting golf or snooker tale. Instead, that spot in front of the fireplace was taken up with a coffin, with our dearest Dad reposing inside.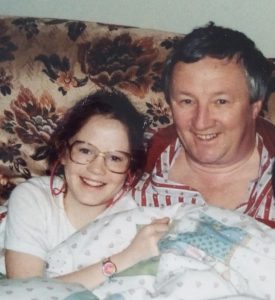 Every time I've tried to write a post about this, I've reduced the story down to something along the lines of "my Dad died". Short and simple, there you go, that's what has happened to me. I've also tried to write with a positive slant, of how I've managed to deal with the searing wound of shock and grief, how I've gotten through this ordeal. This is a Happy Chanter blog, after all, so surely all my posts need to come from a happy-place! I've started, struggled with, and eventually scrapped about 6 or 7 drafts along those lines so far.
Sitting down today, it was only when I started telling the story, and bringing all those painful memories to the surface, that the words finally started flowing, even alongside the inevitable resurgence of tears. I realised that skirting the details doesn't do justice to the enormity of what has happened. I needed to tell the full truth of the story. Not only the details (the cathartic articulating of which is more for my benefit then yours) – but also to admit, and accept, that I'm absolutely not through it yet. Not even close. I'm still somewhere along the early ascent of that journey, and I see now that it will take another while to get over the hump.
I'm really only reaching the point now where I can accept that grief is truly an overwhelming and lengthy struggle. That might sound a bit obvious to most, but it has honestly come as somewhat of a surprise to me. You all know that I have a spiritual outlook on life. I believe that we are all interconnected as forms of one big ball of energy. I believe that death is just a transition to another form within and of that same energy. Death is not the end for any of us, just the start of a new chapter. It is the most natural process in the world, and should not be feared.
As it turns out, even if all of that is true, those beliefs really don't do much to fill the gaping hole that is left behind in the lives of those of us still living on this earthly plane. I do believe that Dad is in a warm and loving place right now, but that doesn't mean I don't miss him. Or that it doesn't hit me like a punch in the gut when I see a hearse on the street, or watch a father walking his daughter down the aisle in some TV show (something mine will now never do), or get a random unprompted flashback in my mind when I'm doing my grocery shopping, of his body lying in that hospice bed, still warm but thoroughly empty. The process of grief is real and raw, the reservoir of tears seemingly infinite, and there are no short-cuts through the journey to acceptance, no matter how sincere your faith may be that "he's in a better place".
Don't get me wrong – I really am mostly okay in the day-to-day. I have fun with friends, I hang out with my gorgeous nieces and nephews, I smile and laugh, and genuinely so. Moreover, I KNOW that I WILL get through this, learn to live with his absence, and that all will be well in the end. That's the way of life. We come through the hard times even stronger than we were before, and go on to even better times. But I've come to realise that knowing this doesn't really make the hard times not-hard. And that it's okay to feel like shit when times are shit. As the saying goes, we are spiritual beings having a human experience. Experience. Turns out the wide range of human emotions that our souls want to experience includes those of grief, sadness and despair. My own soul is on the low arc of that rollercoaster right now, but that's okay. What goes down, must go up. This, too, shall pass.
The purpose of this post isn't to come to some happy conclusion or offer any spiritual insights. Like I said, I'm not there yet. It's more of a therapeutic exercise for me to finally get all this down in writing, and to let you all know where I've been at these past quiet weeks. On a more practical note, this upheaval has also left me a little out of the writing loop, so I hope you'll bear with me while I find my feet again. I'd like to tell you more about Dad himself, the man, the father, who he was, what I've learned from his life and death – but I'm not ready for that yet. That day will come, but for now, I just want to get back to basics and focus on more "general" musings about spirituality and well-being. Doing that will not only nurture my soul at a time it is sorely needed, but will help me to get back into the writing groove that I've fallen out of. It already feels good to be dipping my toes back in the water, and I look forward to reconnecting with you all as I find my way through this mire.