When it comes to spiritual (or self-improvement) practice, everyone has different preferences. Some like meditation, some prefer yoga, some do mindfulness practices, some talk to angels… I think that all practices can ultimately connect you to the same energy that lies within and around us, so it doesn't really matter which particular practice resonates with you. There is no right or wrong.
With one caveat…
Spiritual practice should be a DAILY thing. Not every few days, or every once in a while. EVERY DAY.
Chanting nam-myoho-renge-kyo
As you all know by now, chanting nam myoho renge kyo is my practice of choice. If you haven't found a practice that resonates deeply with you yet, I would encourage you all to give it a try! It seriously changed my life.
I have already written about how chanting works and how I think the practice enhances your connection with that universal energy, giving you more and more creative power in the way you engage with the Law of Attraction. If you chant daily, you keep that connection strong. If you drop your practice for a few days here and there, your vibrational frequency drops, along with your mood, and your conscious engagement with the LOA. Just as you would exercise regularly to keep your physical self in shape, so too should you exercise your spiritual muscles regularly and consistently.
And so I continue to chant. Every. Single. Day.
I know that it can be hard to build up a new daily habit, no matter what it is. BUT I can tell you that the effort it takes to regularly set aside time to practice is totally worth it. First of all, as you build the habit, it gets easier and easier to just sit down and chant without thinking too much about it. And best of all, when you start doing this consistently, your mood and general state of being just flies higher and higher. You feel better. Lighter. Happier. Life starts to just go your way.
7 easy ways to chant nam-myoho-renge-kyo
First of all, if you don't know the mantra yet, here is a 24-minute recording (right-click and "Save link as…" to download MP3 file). It's sometimes nice to chant along with the recording, especially when you're just getting started with the practice.
Whether you use the recording or prefer to chant on your own, here are some of the easy ways you can fit chanting into your everyday life!
1. Make the time and space at home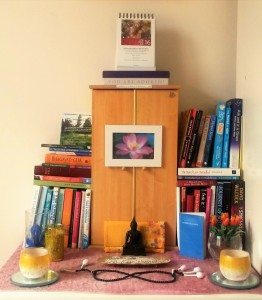 You can chant at home! For any practice like this, it would be ideal if you can take the time to sit down in a special place. Making a space in your home for spiritual practice is not only comfortable and rewarding, but seeing and walking by that place every day serves as a reminder for you to just sit down and do it. When I was living in London, I had a special table (right) – just a cheap Ikea desk – that I covered with a pretty scarf and decorated with items that were either spiritual in nature or in some way meaningful for me and that made me happy to look at them. The Buddha statue I picked up on my first visit to Thailand. The little plastic flower pot I bought in Amsterdam. The candle gifted to me by a good friend. The smoke-free Ka-fuh Hinoki Cypress incense
 that never fails to get me into a calm and contemplative mood when I burn it.
Now that I'm travelling I can't set up such an altar everywhere I go. If you can, I would highly recommend it. But if you can't or don't want to, don't let that stop you from the practice itself! These days, when chanting at home, I simply sit on the side of my bed and gaze out the back window of my bungalow, which looks out onto trees and greenery – nature itself is enough of an altar for me. The important thing is to pick somewhere quiet and comfortable to really devote yourself to those few minutes of chanting.
2. Immerse your Self in nature
You can chant outside! My favourite place to chant these days is in the ocean or on the beautiful beach I am lucky enough to live beside in Ko Lanta. Wherever you are, there is somewhere you can go to enhance your connection to All-That-Is by directly connecting with Nature. Go for a stroll around your nearest park or seafront. Take your shoes off, sit down in the grass, lean up against a tree. You can always find a quiet spot to sit, rest your gaze on something beautiful, and chant. It doesn't really matter if anyone hears you but remember, you can just say the words quietly, there's no need to shout them out.
3. Cleanse your body, cleanse your soul
You can chant in the shower! This was my go-to when I first started my chanting practice. I have never been much of a morning person, and was in a 9-to-5 office job at the time, so by the time I dragged myself out of bed after a few snooze cycles, there was hardly any time to eat breakfast, let alone sit down to chant for even 10 minutes. So I decided to make use of the time when my mind wasn't all that occupied anyway. Showering is an automatic process for most of us – water on, wash, rinse, repeat. It's the perfect opportunity to squeeze in some chanting time!
4. Clear your clutter, inside and out
You can chant while you're doing your housework! Whether you need to wash the dishes, vacuum the floor, or dust down those bookshelves, doing housework is another great chance to chant. As you're cleaning up your physical home, you can do a double whammy and get some chanting done at the same time to clean up your spiritual clutter!
5. On the road to happiness
You can chant in the car! Maybe this one is best left until you have at least mastered the words and don't need to think too much about it. Always concentrate on the road! But after you've chanted a bit and become familiar with the words, you don't really need to think too much about it as you're doing it. Once you're comfortable with the mantra, you can take advantage of those long drives to work, or to visit friends and family. Setting out on a drive (even on my scooter here in Thailand) has always been one of my favourite times to chant. Just switch off the radio and chant to yourself while you're driving.
You can even chant silently…
I believe that the act of reciting the words out loud is important. The universe is a bundle of energy and vibration, and I think that the physical vibration achieved by chanting out loud creates a stronger connection to that energy. However, silent mantra meditation can be a great way to focus and calm your mind. Your thoughts alone also have creative and energetic power, so there is still benefit in focusing your mind on the mantra, even without giving it voice. If you can't find a place to comfortably chant aloud, try listening along with the recording above, or just reciting it silently to yourself.
6. Planes, trains and automobiles
You can chant on public transport! Sitting on a bus or train for your morning commute? Flying off somewhere for business or pleasure? For a lovely and fulfilling way to pass the time, simply gaze out the window or close your eyes, and repeat nam myoho renge kyo in your head.
7. Drifting off to sleep
You can chant in bed! I have always had trouble falling asleep – it can take anywhere from half an hour to 2 hours for me to finally nod off. One of the things that really helps me to quiet the chatter in my mind is to silently repeat nam myoho renge kyo to myself.
Have fun with it!
I recently read a interview with George Harrison of The Beatles, about his practice of chanting the Hare Krishna mantra. As you probably know, the Hare Krishna devotees are famous for their all-singing, all-dancing enthusiasm when reciting their mantra, and are frequently seen dancing down the street and chanting along with cymbals and drums. Harrison talked about how their style of practice enhances the joy and jubilation that arises through this form of mantra meditation. It really made me think, and realise that there's no reason that chanting needs to be a formal or sombre affair. nam myoho renge kyo connects you with the divine energy around and within us, which is a joyful thing! Embrace the practice and have some fun with it too 🙂
Can you think of anywhere else you might be able to chant? Let me know in the comments below!