Ho-ho-hooo! It's that time of year again and it's time to splash out on the ideal gift for the loved ones in your life, or indeed on a special treat for yourself! My first 10 Christmas Gift Ideas post is still chockablock full of good ideas, but I figured it was about time to put together a brand new bumper list of some of my favourite things I use in my everyday life that would make a fantastic gift, or set you up to start the next New Year in the best way.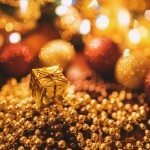 Quick note: A lot of these products will be available in a local business in your area. I would always recommend shopping local and supporting small business owners, so please do look around for these products or something similar in your neighbourhood. However, if you choose to shop online, the product links below are affiliate links. This means that I will get a small commission if you purchase by clicking through the links on this page. It doesn't cost you an extra penny, but helps to support this blog.
---
The War of Art – Steven Pressfield (Amazon US) (Amazon UK)
Most of us have two lives. The life we live, and the unlived life within us. Between the two stands Resistance.
This is one of my favourite books of all time. It's a lovely short book that serves as a motivating battle cry to overcome your own inner Resistance to chasing your creative dreams. I've read it multiple times and often read a quick chapter first thing in the morning to help me leap out of bed and hit the day running. Full of inspiration, it's a wonderful kick up the arse to take action today, and every day, to achieve your goals. Highly recommended for anyone who wants to smash through their own internal barriers and be the best they can be.
---
Atomic Habits – James Clear (Amazon US) (Amazon UK)
Be the designer of your world and not merely the consumer of it.
This is another fantastic self-improvement book, full of insight, and with a systematic approach to breaking bad habits and forming good ones. With no airy-fairy-ness, this book contains lots of practical advice on how to make positive changes in your life, one step at a time. I love James Clear's down-to-earth writing style, and as a bonus tip, you should also check out his weekly email newsletter, "3 ideas, 2 quotes, 1 question", which is short and snappy, and always thought-provoking. As someone who has signed up to a lottt of mailing lists, this is one of the few that I look forward to!
---
Journal (Amazon US) (Amazon UK)
I must admit I am a sucker for pretty journals with colourful covers, and omg look! This one (aptly called "Tree of Dreams") is beyond beautiful. I recommended a gratitude journal in my previous Christmas Gifts post, but as rewarding as it can be, journaling shouldn't be limited to gratitudes. Getting your thoughts on paper, stream-of-consciousness style, or listing your to-dos or aspirations, is a wonderful way of cleaning up your messy mind, working through the clutter, organising your thoughts and feelings, and getting to know your inner Self. A beautiful book will draw you in and inspire you to fill the pages, whether it's with gratitudes, goals, rants or random musings. A gorgeous gift for yourself or a loved one.
---
Jigsaw Puzzle (Amazon US) (Amazon UK)
Another wonderful way to clear your mind is to distract it with a relaxing task. What better than a challenging jigsaw that rewards you with a beautiful picture for your hard labour? Working on a jigsaw is a fabulously mindful activity, where you can let your worries and woes drift away as you turn your focus onto this piece goes here, and that piece goes there, and where's that last corner..? Fun for the whole family to get involved in, and nothing beats that high of accomplishment when you finish a challenging puzzle. Jigsaws need to make a comeback, I say, so get one for everyone you know!
---
Tibetan Singing Bowl (Amazon US) (Amazon UK)
I've always said that accessories aren't necessary when it comes to spiritual practice, but that doesn't mean that they can't be useful and, indeed, a very pleasant way to enhance your spiritual rituals. I never used any sort of prayer bell until I picked up a Tibetan singing bowl a few months ago, and it is just a lovely addition to my little altar. The tone resonates so smoothly through your space and soul, clears negative energy, and helps to settle you into the beginning of your practice. I usually strike it rather than circle the edge so that I can sit back and let the sound vibration wash over me, but you can try both and see what works for you. Whether it's for yourSelf or someone you know, this is a gift to treasure.
---
The Expanse (Amazon US) (Amazon UK)
We're not all about hippy woo-woo here in Happy Chanter-land, you know! I'm a big sci-fi fan, and this series is basically the best thing on TV at the moment and you absolutely *must* check it out. The scale of the setting is vast, the conflicts and interplays between different planets and peoples is so detailed and engaging, and the shots are strikingly beautiful. Probably the most accurate depiction of what life would be like in space, and a fantastic story too, full of spaceships and mystery and politics and war and love… the whole shebang! I haven't read the books by James S. A. Corey (yet!) but they have fantastic reviews too if you want to start there (Amazon US) (Amazon UK), and by all accounts the TV show is a very close adaptation. The links above are for Blu-ray box sets, but you can also watch the seasons on Amazon Prime (Prime US) (Prime UK). Season Four wil be released there on December 13th so you still have time to catch up!
---
Ukulele Starter Kit (Amazon US) (Amazon UK)
The ukulele is basically my favourite thing in the whole wide world. I picked one up in Thailand about 2 years ago and I've always said that was the day I found my "spirit instrument". It's easy to learn and just soooo much fun to play. There are ukulele groups in every corner of the world, making for a fantastic social outlet too. Trust me, if there are 3 groups within driving distance of my home here in the middle of nowhere in the Irish countryside, there's one near you. You can even check out the group I play with, Ukephoric, on Facebook to see the fun we get up to playing music every week! This starter kit has everything you need to get you up and running, including a tuner, carry bag, strap, and, of course, the uke. You don't need anything fancy to get started, but if you do want to splash out on a higher quality brand, I play mainly with a concert-sized Cordoba, which has a lovely sound (Amazon US) (Amazon UK). There are also YouTube channels galore with lessons to get you started – tip: once you master the C, G, Am and F chords, there are a thousand songs you can play. Happy strumming!
---
Slow Cooker
(Amazon US) (Amazon UK)
As someone with, let's say, limited skills in the kitchen, this little gadget is a (probably literal) lifesaver. It's so easy to just chop up some ingredients, bung them in, and then a few hours later you have a delicious meal all ready to serve up. Every kitchen should have a slow cooker (aka crock pot in the US), so this would make an idea gift for friends or family, or for yourself to help stick to those healthy eating New Year's resolutions.
Bonus: This is my go-to slow cooker recipe – delicious, nutritious, and perfect for freezing. Chop up one chorizo sausage and 3-4 carrots. Drain and rinse one can each of chick peas and kidney beans. Put it all into the slow cooker along with one can of chopped tomatoes, a couple of squirts of tomato puree, and 350ml stock (your preferred flavour; I usually use beef). Stir it all up well, and leave cooking on Low for 4-6 hours. Serve with a side salad or some crusty bread and butter. Nom!
---
Digital Nomad Girls – Inner Circle
This particular suggestion is more targeted towards the digital nomad, or even home-based working girls out there. If you have the ability to work remotely and maybe even travel around the world as you do, this membership site is absolutely amazing. There are Zoom-based remote co-working sessions where you can meet lovely people, work together in focused 25-minute bursts, and chat in between. There are also social sessions and book club meetings and goal-setting workshops and more, all accessible from wherever you happen to be. On top of that, there is a ton of expert content packs, covering topics like branding, social media, productivity, finding clients, self-love… the list goes on. There is a wonderful Facebook group you can join for free, but I took the plunge and joined the Inner Circle a couple of months ago, and never looked back. The community there is second to none, and having regular video meetups means you really get to know people and make friends, as well as finding support and advice for whatever issues or questions you might be having in your profession. Doors are opening again in December, so if you or someone you know is a remote worker who would love to have an online community of like-minded friends, check it out!
---
2020 Calendar (Amazon US) (Amazon UK)
Myself and my good friend Mike have a lovely Christmas gift tradition – we buy each other a calendar every year. Picking out a calendar for someone else can be quite the pressure, let me tell you, but luckily we both have *excellent* taste, and we've both enjoyed beautiful images on our walls every year as a result, such as art by Banksy, Rob Gonsalves, Angie Lewin, or landscape and drone photography. Calendars are not only a staple fixture in the home, but gifting one can also mean that you think about and are grateful for that person every time you look over at it. Obviously your choice of calendar will depend on personal taste, but I've offered this Fragile Earth one as a suggestion to not only remind ourselves of the beauty of the natural world, especially in places which are being threatened by climate change and human action, but also because some of the proceeds of these sales go towards the World Wildlife Fund to help protect the wildlife that are at risk in these areas and all around the world.
Let's all be mindful of our gift choices this season and try to use our purchase power in a positive way. You can shop local to support small businesses, you can gift a donation to a charity working to support those less fortunate, you can browse thrift and charity shops. You can choose durable products that aren't smothered in plastic packaging. You can even gift subscriptions or experiences to create happy memories. Most of all, let's remember that the holiday season is about more than material goods and expensive gifts – it's about spending time with your favourite people and valuing the company around you more than the shiny new things under the tree.
Wishing you all lots of love, laughter and happiness this Christmas ❤️